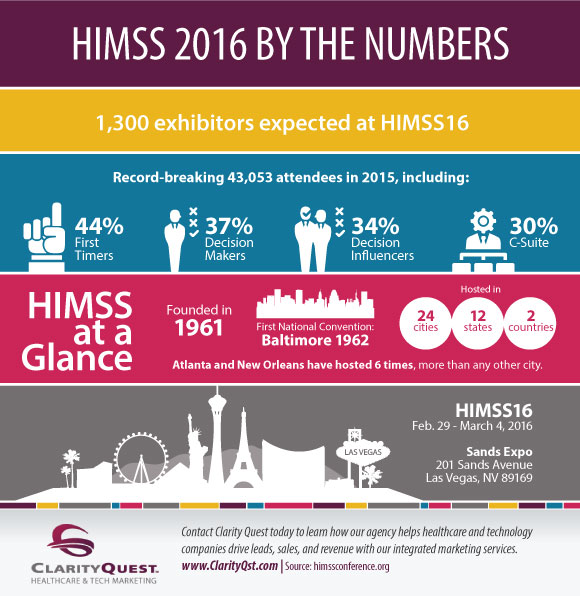 The Healthcare Information and Management Systems Society (HIMSS) Annual Conference and Exhibition is set to kick off on February 29th at the Sands Expo Center in Las Vegas.
This will be the third HIMSS conference held in Las Vegas, and the second at the Sands Expo Center. Much has changed in health IT since the last Las Vegas HIMSS in 2012. The key topics back then included Meaningful Use Stage 1 and Stage 2, ICD-10, and mobile health.
This year's sessions will focus on topics such as new payment models, care coordination, connected health, interoperability, and more.
And if you stick around for the closing keynote, you can even hear from Super Bowl XLI champion Peyton Manning. A special bonus for you sports fans.
Changes Ahead
Despite record-breaking attendance at HIMSS 2015 – including nearly 19,000 first timers and 13,000 C-suite executives – the labor cost dispute with McCormick Place has caused HIMSS to pull out of Chicago for the 2019 show. 2015 could very well have been the last HIMSS conference held in Chicago for the foreseeable future, which is good new for those of you who prefer the sunnier locales.
The HIMSS Resources You Need
Learn how to prepare your HIMSS 2016 Rescue Box
Clarity Quest recently organized and executed a highly successful trade show at the Sands Expo for our client eMedApps at the NextGen ONE User Group Meeting. If you have any venue-specific questions about logistics at the Sands, we are happy to help!
Sign up for our monthly e-newsletters to receive our marketing tips in your inbox. We will be sending out multiple HIMSS resources and tips in early February to help you prep for the show.
Need any last-minute marketing collateral, business cards, or designs created before HIMSS 2016? Call us now to place your last-minute orders.
Preparing for other trade shows this year? Clarity Quest has been helping healthcare and technology companies improve their trade show performance with strategic trade show and event marketing services for over a decade.
Like this post? Get more juicy marketing content by signing up for our monthly e-newsletter.